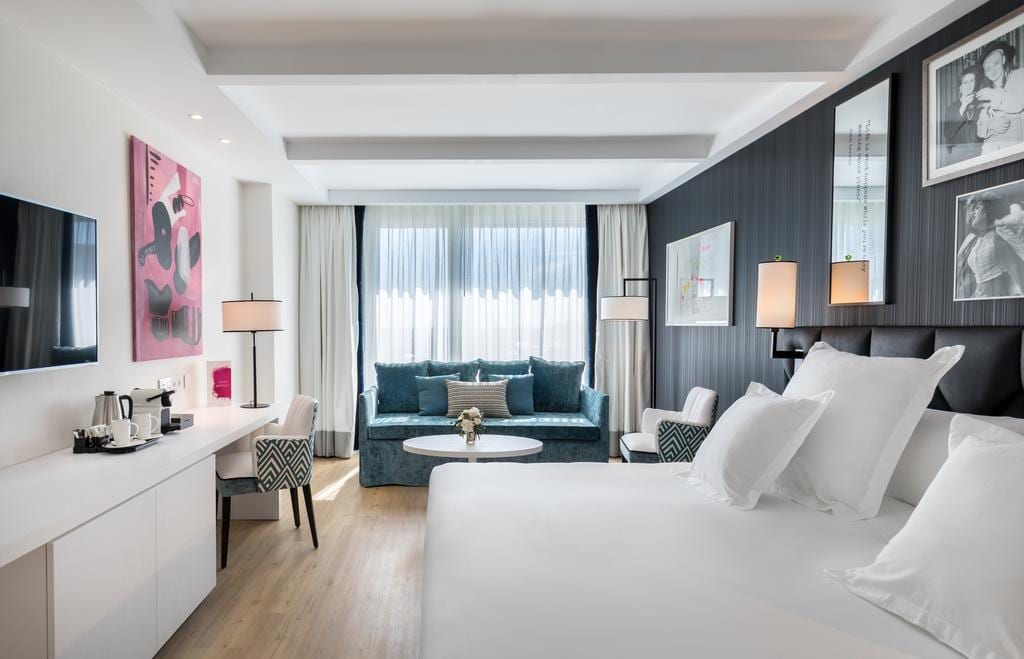 Madrid Overview
Famous for its ever-famous football club, Real Madrid, the city is full of football fans and tourists. Spain has a lot to offer from rich history, culture, historical and modern architecture, art and of course, food. The city has an excellent public transport system which is incredibly easy to adapt to even for foreigners. The beautiful weather even in summers paired with Madrid's food makes the place irresistible. The centre or the heart of the city is Puerta del Sol which is a large plaza where most festivals, performances and events are held.
Places to visit in Madrid
Museo Reina Sofia which was originally built as a hospital but later turned into a museum now stands as a modern complement to the Prado Museum. The museum contains pieces that were created by Spanish artists including Picasso's work. Places like Mercado de San Miguel are also amazing for tourists and are a must-visit place for people who love shopping specially to try out the local food. The market stays open till 2 A.M. and offers a vast variety of delicacies along with music. Other places like the Temple of Debod, Plaza de Cibeles, Puerta del Sol, Gran via etc. offer a lot for people who have an eye for architecture, history and art. Ensuring a complete great experience includes a great place to unwind as well. Following are some of the best luxury hotels in Madrid which are perfect if you are travelling with kids and family:
1. Hyatt Centric Gran Via Madrid
Rooms
Hyatt Centric Gran Via Madrid is ranked 1 on our best luxury hotels in Madrid list.The hotel is located ideally near all the main places of Madrid and near all the museums and monuments. The hotel is pet-friendly. The rooms are stylish, minimalist and modern with custom designed furniture. The work area is spacious, there is a big 55-inch flat-screen TV, complimentary Wi-Fi, terrace looking over the city and much more. The rooms have air conditioning and heating, the attached private bathrooms come equipped with toiletries, hairdryer and bath or a shower.
Dining and Facilities
Spain is famous for its food and Madrid has the best there is to offer. Out of a sea of restaurants serving good food, three can be found at Hyatt Centric Gran. Their restaurant Hielo y Caron offers all three meals and the restaurant is inspired from Spain's own culture so it offers authentic cuisine. The music studio, Ondas Bar in the lobby level offers a great friend environment to enjoy your coffee and listen to some tunes. The rooftop bar, El Jardin de Diana offers a variety of cocktails during the summer time. The hotel offers a 24-hours front desk service, there is a concierge service available too and the lobby has books and magazines related to Madrid to keep you occupied.
2. Hotel Puerta America
Location
Ranked 2nd on our best luxury hotels in Madrid list is Hotel Puerta America. The hotel is located on Avenida De America which is only 5 minutes away from the business and shopping area called Salamanca district and the metro is only 200 meters away from the hotel whereas the center of Madrid is merely 20 minutes away from the place. The airport is quite near too.
Rooms
This hotel is so different than your typical hotels. Each floor is designed by a different architect offering something different in terms of interior design. The rooms have 2 twin beds or 1 queen, they all have flat-screen smart TVs and are also equipped with Chrome-cast audiovisual streaming device. The bedrooms have big windows offering a panoramic view of the city. Moreover, there is air conditioning, international channels, Wi-Fi, toiletries, safe and a hairdryer in every room regardless of the architect. It is the perfect place for people who want to experience something completely different and fun.
Dining
The food here is of a variety with seafood at the Observatory or seasonal cuisine in Karrara Terrasse. The Lobby and Bistro offers a completely different, relaxing ambience whereas Marmo Bar offers a wide variety of innovative cocktails and Skynight Lounge is the perfect way to end your night in a fun way with great music. Liquid 41 is a poolside lounge with fresh water pools, wooden floors and comfy sofas.
3. Bless Hotel Madrid- The Leading Hotels of the World
Location
This hotel is located in the Salamanca district, the shopping and business center of Madrid. It is only a 12-minute walk away from Puerta de Alcala.
Rooms
The rooms are nicely furnished and are fitted with a sound system. Not to mention, there is a shower and a bath, mirror with magnification, flat-screen TV, Nespresso coffee machine and a minibar. Some rooms come with a balcony and a work desk.
Facilities
The hotel has its own barber shop called Acqua di Parma which offers authentic Italian shaving experience and Maison's sensory universe. The place is unique offering a vast variety of relaxing services in authentic hedonist fashion. Mixology at the Bless Hotel offers one of the most unique cocktails in the city with a hint of something different. The hotel also has a fully-equipped power gym called Fit Nic with a 360-degree sound system in a virtual training room. Bathology is another pampering service that is provided by the hotel.
The place has a specially curated soap menu created by experts to provide you the ultimate relaxing experience with bath salts, essential oils, bubbles and soothing aromas. Some packages also include pampering services by Tacha, offering a skincare treatment like no other.
4. Eurostars Madrid Tower
What makes Eurostars Madrid Tower one of the best luxury hotels in Madrid?
Located in the SyV Tower, this hotel is ideal for people who love sophistication and minimalism. The high SyV Tower itself has a reputation for being well built by famous architects. The views provided by this hotel are unlike any other. The interior is well thought-out with walnut wood furniture, everything is minimalist yet luxurious, a pillow menu, comfortable beds, spacious bathrooms, steam brush for clothes and hair care products are offered by the hotel.
Facilities
There is 24-hour room service, laundry, luggage service, dry cleaning and even an on-call doctor. The hotel also provides on-request meeting rooms, halls and banquets for conferences and events. Vehicle rental, currently exchange and a separate guest relations service is provided to ensure that all your requests are taken care of.
Dining
The hotel's restaurant, Volvoreta Restaurant, offers a great variety of Mediterranean cuisine, there is also a breakfast hall which offers a top-quality breakfast buffet with a wide variety. Lobby bar offers a relaxing environment to just have snacks, beverages and liqueurs.
Spa and Health
There is a Spa and Health club curated especially for people who truly love to unwind. The place offers a variety of services and also has a sauna and a Jacuzzi. On top of that, you will have access to a 24-hour, fully equipped Fitness Centre with a personal trainer to help you with your goals.
5. Barcelo Imagine
Location
An ideal place for tech-savvy millennials with offering a fusion of luxury, art and tech. The hotel is located a short stroll away from Torres Kio and Plaza Castilla. Madrid Chamartin Metro and Train Stations are only a 5-minute walk away. The Madrid-Barajas Adolfo Suarez Airport is only a 20-minute ride away from the hotel.
Rooms
The rooms are intricately designed and they come equipped with a media hub, 55-inch Smart TV, free Wi-Fi and spacious bathrooms with rainfall effect showers.
Dining, Facilities and Music
Dining at the Barcelo is unique with great food but a relaxing ambience. The Sky Lounge is open during the summer season and is open to everyone. Concerts, parties and private events are held here because of the huge space. The hotel provides a unique musical experience and the decor itself features guitars and vinyl records to set the mood. The floors have a musical name and songs are played according to their genres. The hotel hosts many musical events and even a room service of vinyl records. There are 3 meeting rooms that are fully equipped with modern and sophisticated equipment and can be joined to form a large hall for bigger events and weddings.
6. Gran Hotel Ingles
Location
Just missing out on the top 5 of the best luxury hotels in Madrid list is Gran Hotel Ingles. This hotel is located in the centre of Madrid and ensures accessibility to every famous landmark. The Royal Palace is only a 20-minute walk away whereas El Retiro Park is only a kilometre away. However, it has a lot to offer other than its ideal location.
Rooms and Interior
The décor is inspired by the interior of a luxurious art deco salon with hardwood floors, lined walls with padded leather panels, armchairs, different textures and fabrics. They offer a late turn down service, a welcome gift, a huge selection of newspapers to choose from and get delivered to your room. The rooms have high-speed Wi-Fi connection, Bluetooth speaker, a universal multi charger, a 50-inch TV, a huge variety of teas and coffees to choose from, a fully stocked minibar, the bed has thick mattress with a visco-elastic layer and a huge pillow menu to choose from.
Dining and Facilities
Dining at the hotel is unique with intricate dishes and beautiful ambience. Lobo 8 offers authentic native food with high quality ingredients. LobByto is another restaurant that offers a relaxing environment and a vide range of beverages and snacks to choose from. Uniquely, there are two private dining areas that can be joined for hosting events. There are also meeting rooms that are fully equipped.
7. Hotel Urban
Location
This property is located in the financial, political and cultural centre of Madrid. It is right in the heart of the 'Golden Triangle' which was formed by the Prado Museum, Fundacion Reina Sofia and the Thyssen-Bornemisza.
Interior
Hotel Urban is ranked 7th on our best luxury hotels in Madrid top 10 list and features 96 designer rooms and suites. The vibes are charming, modern and full of glamour with an impressive artwork collection. The premises are full of modern and urban chic paintings and artwork in every other corner making the hotel modern yet colourful.
Rooms and Facilities
The rooms are soundproofed, have free Wi-Fi, a flat-screen TV, a DVD player and a spacious bathroom with marble floors. Furthermore you can access the minibar and a Nespresso coffee machine to fulfil your cravings. The hotel has a CEBO Restaurant which offers personalised cuisine that is nothing like you'll experience in all of Madrid. It is a Michelin-star restaurant. The hotel includes a rooftop swimming pool with a bar and an open terrace in the summers. It is also pet friendly if opted for that package and it includes luxury gifts and toys for your pets as well. The hotel also offers a shopping package that lets the guest have several shopping benefits and special attention.
8. NH Collection Madrid Paseo del Prado
Location
Present in the heart of the city, NH Collection Madrid Paseo del Prado is ideally located near Reina Sofia, Prado and Thyssen museums. It is in the city's Art Triangle. Plaza independencia and Retiro Park are a stroll away from the hotel.
Dining and Facilities
The premises offer free high-speed internet Wi-Fi services and there is a Guest Relations team appointed that is in charge of your comfort and fulfilling your requests. The tapas bar is manned by a two Michelin-starred chef, Paco Roncero and it offers a variety of mini-dishes that are carefully crafted to impress your taste buds.
You can start your day with the hotel's exclusive breakfast. Suite and Tea is an elegant place that offers tea, chocolate and pastries. Moreover, there is also a rooftop gym which is fully equipped and allows you to watch over the beautiful view while you work out.
The hotel is eco-friendly and is accessible for people. The hotel also offers the facility of a babysitter. There are separate meeting rooms that are fully equipped and the hotel provides special services for events and weddings.
Rooms
Bedrooms offer stunning views of the Neptuno Fountain and the city. The rooms are air conditioned that feature a flat-screen TV, a Nespresso coffee machine and marble bathrooms with rain-effect shower and all the basic toiletries.
9. Barcelo Torre de Madrid
Location
Located in one of the most famous places of Madrid, Torre de Madrid. The hotel is designed by Jaime Hayon. It is intricately designed to provide you visual and physical comfort. The hotel is very near to the Gran Via, only 10 minutes away from the Royal Palace of Madrid and 15 minutes away from Puerta del Sol and Plaza Mayor.
Rooms
The rooms are huge and have a colorful interior and are all designed by famous designers. The rooms come with free Wi-Fi, king sized beds or twin beds, spacious bathroom with rainfall shower, a 42-inch TV, a work desk, docking stations, minibar and a safe.
Dining
Restaurants are diverse providing a variety of cuisines. SOMOS provides authentic Spanish cuisine with a relaxing ambience. Garra Lobby bar offers a great environment with great food and even better drinks. There is also a wellness area which has a swimming pool, sauna and sensation showers and also a sun terrace and several treatment rooms offering a variety of options to choose from. Apart from that, there is also a premium level that can be accessed when paid for it. Additionally, there are several more premium services that come with the package.
10. Eurostars Suites Mirasierra
Ranked 10th and the final name on the best luxury hotels in Madrid and known for its impeccable hotels and services is Eurostars Suites Mirasierra. They offer a welcome drink, free breakfast and early and late check-ins as well. The hotel is located in the north of the city right in the business district of Madrid.
Rooms and Facilities
There are 182 guest rooms with elegant interior and large windows providing a beautiful view. The rooms have a mini bar, a desk, a spacious bathroom with a bathtub too. The hotel also includes Spa Wellness to help their guests unwind. The place is exquisite and includes swan neck faucets, jets for the lower back, hydromassage beds and many other equipment targeted towards different parts of your body.
Not to mention, there is also a relaxation area with comfy lounge chairs. Eurostars Suites Mirasierra also provides ideal facilities for your meetings and events with two different areas that can accommodate up to 850 people. The spaces are equipped with audio-visual equipment and all the latest technologies. The hotel houses a number of restaurants with the best being Restaurante Verdil which offers Mediterranean cuisine with impeccable ambience. There is also a restaurant and chill out bar called the Garden which offers a great environment with great food and refreshing drinks.
In Summary
So these are some of the best luxury hotels in Madrid. We hope you found the above information useful and now the ball is back in your court and you must decide which one is your favourite?
See Also