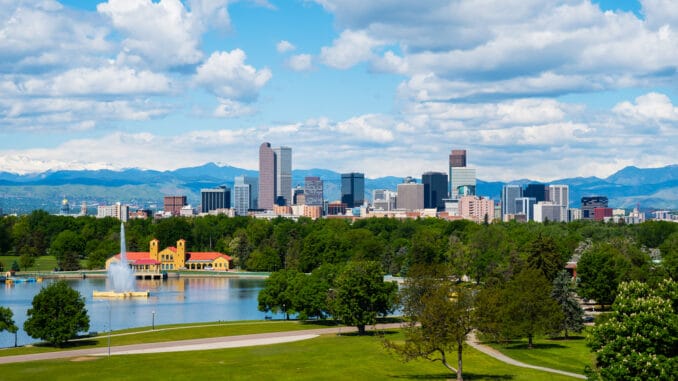 There's never a boring minute in Denver, even when you're traveling with a restless toddler or a picky teen. The city is full of child-friendly activities, including interactive museums, sprawling parks, and zoos. Pick from our list of fun family things to do in Denver, Colorado this weekend.
Denver Zoo
The Denver Zoo has over 3,000 animals, housed in different habitats where kids can also learn fun facts about the ecosystem and the habits of each species. Some of the most popular spots are the Wallaby Walkthrough, Flamingo Habitat, and the Tropical Rainforest that has over 1,800 frogs, reptiles, snakes and more.
At Stingray Cove, kids can even feed and touch the gentle creatures who live in the 15,000-gallon tank. Other park activities include a 4D theater, a Denver Zoo railroad, a Conservation Carousel, and a Lorikeet Adventure.
Denver Museum of Nature and Science
Learn more about the Earth, Universe, and natural history at the Denver Museum of Nature and Science.
The museum has permanent exhibits about wildlife, prehistoric times, cultures of different ethnic groups, gems and minerals, space, archaeology, and more. There are also special exhibits and film showings, so be sure to check by often.
Kids will love the Discovery Zone, which has interactive activities like scavenger hunts, games, sand pits and more. There is also a planetarium (go there at night to try stargazing with their telescopes) and an IMAX theater.
City Park
Denver has hundreds of parks, but City Park is hands-down one of the most popular places to go with your family.
The park spreads across over 3,144 acres. There are two lakes, where you can rent paddle boats or kayaking, and shaded picnic areas for an al fresco lunch. There's plenty of space to go biking, play frisbee, or other outdoor sports. You can also use the tennis courts and playgrounds.
Be sure to check the historical monuments, and the deck where you can take Instagram-worthy pics of the Denver skyline. The park also has free outdoor concerts, so check their website for the schedule of events.
The park is also located near the Museum of Nature and Science and the Denver Zoo, so you can make a quick stop here after your tours.
Downtown Aquarium
This is a great place for any child who loves animals! Here at the Downtown Aquarium, they can see marine life, birds, reptiles and even tigers. You can even swim with the sharks, and try feeding stingrays – all under safe supervision, of course!
The exhibits are designed to capture the attention of kids, with catchy themes like Sunken Temple, Shipwreck, Aquatic Carousel, and more.
The Downtown Aquarium also has mermaid shows, and a 4D theater that shows science-themed detective series Mystery Machine, and animal documentaries.
Elitch Gardens Theme & Water Park
Get ready for wild rides and water fun! Elitch Gardens has over 50 rides to choose from, ranging from thrilling roller coasters, a 17-story star flier, and a free-fall ride, to family-friendly rides like ferris wheels and swinging Viking ships.
Little kids will love the tea cup rides, miniature trucks, a family roller coaster, kiddie boats, and more.
There are also dozens of water attractions, including aqua tube slides, giant wave pools, and areas with tipping buckets, sprayers, water bubbles, and waterfalls.
If you're lucky, your weekend visit may coincide with the park's special events, such as concerts and dive-in movies.
Confluence Park
If you've only got an hour or two to spare, consider a quick visit to the downtown Confluence Park. Its most famous attraction is the kayak chutes and the skate park, but you can also just wade in the shallow areas, or soak in nature while exploring the numerous walking and biking trails.
If you happen to visit Denver in June, the park also is the venue for the annual South Platte Riverfest which features live outdoor concerts and water sports.
Denver Trolley
Established in 1885, the Denver Trolley was once the city's premiere method of transportation. Luckily, the tracks (which span over 250 miles) have been restored—preserving an important part of Denver history, and providing a scenic and relaxing way of seeing the major sights.
Take the trolley to see famous attractions, while listening to a recording about the city's growth from a Wild West town. This is a great way to tour the area without tiring out little kids.
Children's Museum of Denver
This is one of the best places to visit if you have children below the age of 5. The Children's Museum has four different kinds of age-appropriate learning adventures: water, kinetics, bubbles and energy.
"Water" lets kits splash and play, while learning concepts like buoyancy, density, flow and more. They can also learn about thunderstorms, launch a geyser, play with water jets, build boats, and move pipes to fill up a tank.
"Kinetics" teaches physics and tests concepts about gravity, motion and forces. They can also move levers to play rhythm games, and make their own marble maze with paper towel tubes.
"Bubbles" is one of the most popular areas, with giant bubble and foam booths, and a drop zone where bubbles float from the ceiling. Meanwhile, "Energy" allows them to learn more about light and air through rockets, air balloons, solar powered speakers, and more.
The museum also has book books, art studios, a teaching kitchen, assembly plant, and imagination stations that look like markets, fire stations, veterinary clinics and more.
Anderson Farms
Don't miss a visit to Anderson Farms in the Fall. Kids can visit a pumpkin patch, explore a corn field maze, fire a pumpkin cannon, and take wagon rides. There are also play areas, like a tire mountain and wooden train, and a fun fort. There are even combine slides and jump pads for toddlers and preschoolers.
You can also rent pedal carts or your own private campfire, or rent a pavilion for a picnic.
Have a Denver adventure
From city parks to science museums, Denver has a lot to offer to kids for all ages. Spend a family weekend there, for hours of laughter and learning.
See Also