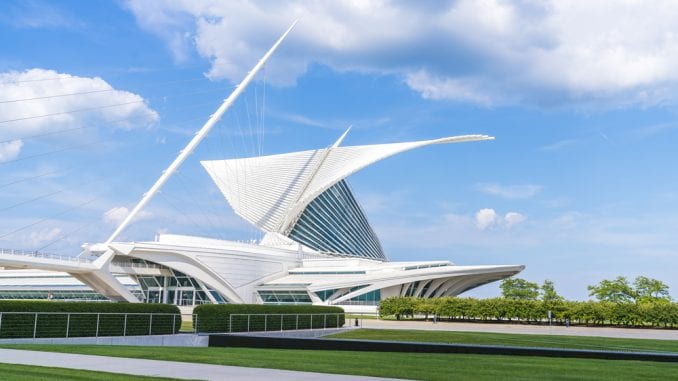 Map of Milwaukee Wisconsin Area
BOOK HOTEL IN ANY PART OF MILWAUKEE AT GREAT PRICES
With a touch of ecstatic history, rich culture, sea breeze and museums filled with native history, this city in Wisconsin, USA has everything one could wish for on a perfect vacation. Milwaukee, the largest city of Wisconsin, is located on the shores of Lake Michigan in eastern United States.
It offers you midnight riverside walks, skyscrapers, delicious cuisine and art all in one place. Read on to know more about this amazing city which is calling to you!
With a population of over 590,000 in an area of 270 km2 according to a census of 2019, it is the 31st most populous city of the United States and a perfect spectacle of diversity. Skyscrapers are a manifestation of the city's booming economy; Milwaukee has a regional GDP of over $107 billion and is considered a 'Gamma' city.
Fun Fact: The cream-colored bricks discovered in Milwaukee in the 19th century have earned it the name of 'Cream City.'
What is Milwaukee known for?
Thinking about Milwaukee probably just brings baseball and beer to mind. The city is home to professional National League and American League players, Milwaukee Brewers. The team, founded in 1969, won 90 games in 2008 and is definitely a source of fascination for all the baseball lovers out there.
Milwaukee has a deep brewing history. The oldest is Lager, arguably the founding stone of the city's brewery followed by Schlitz Lager, 'The Beer that Made Milwaukee Famous.' Pabst Blue Ribbon, Miller High Life ad Miller Lite are a must-have too if you are really looking to get a taste of Milwaukee beer.
While it is only fair to think about the Brewers and the breweries when one hears about Milwaukee, the city is much more than that.
Art and Museums
A city's art and museums are the best illustrations of its meaningful history, native culture and artistic taste. Established in 1888, Milwaukee Art Museum holds 25,000 works of art and the building in itself is a feast for the eyes. In addition to that, the Grohmann Museum hosts 700 paintings and sculptures depicting evolution of human work and is a must-visit place.
Architecture
Pabst Theater, Milwaukee City Hall and Iron Block Building, remnants of the nineteenth century, are perfect depictions of fine architecture in Milwaukee. The buildings are an exemplary presentation of the historical culture of the city and attract thousands of admirers every year.
Festivals and Music
If you are planning a visit to Milwaukee, you definitely want to align your visit with the festival of Summerfest, 'The World's Largest Music Festival.' Summerfest attracts over 800,000 people yearly and offers extraordinary music performances and flavorful food for 11 days, a perfect chance for you to let yourself enjoy and appreciate good music and great food.
Parks and Recreation
Whether you are travelling in summer or winter, the city has to offer you a perfect relaxing time with nature — Cathedral Park hosts 'Jazz in the Park' on summer nights and Pere Marquette Park hosts 'River Rhythms' in winters. For the hiking enthusiasts, the Monarch Trail offers a phenomenal show of fall migration of monarch butterflies.
Cuisine
The fact that the acclaimed Chef Julia Child selected Sanford D'Amato, a native Milwaukee chef, to cook for her 80th birthday says a lot about the quality of food in the city. Milwaukee brings to you refined, tasteful and flavorful cuisine: the best you can have for your taste buds.
While you are in Milwaukee you should definitely have Cream Puffs and Bloody Marys. Not only that, the city holds a sea of eccentric German, Italian, Russian and Thai restaurants bringing to you mouth-watering cuisine.
Fun Fact: Two centuries of brewing heritage have earned Milwaukee the nickname of 'The Brew City.'
Best Places to stay in Milwaukee?
If you are looking for some shore time, Pfister Hotel is where you want to stay. This Victorian hotel dates back to 1893 and while it retains a magnificence of history, it is fully equipped with any facilities one could want in a comfortable vacation such as Wi-Fi, flat-screen TVs and aesthetic décor.
Furthermore, it is in close proximity to Pabst Theater and Milwaukee Riverwalk, and hence, will save you conveyance time and money!
Downtown is always a good choice to stay too, with the most sights and attractions. Hyatt Place Milwaukee Downtown and Hilton Garden Inn Milwaukee Downtown offer good choices. If you are looking for a romantic spot, the Iron Horse Hotel is your pick.
Fun Activities to do in Milwaukee
Yes, museum tours, art tours and cultural tours are exciting, but the city has something for everyone. For the adventure lovers, Fiserv Forum holds yearly and monthly events. If you are looking for a carefree night, the Potawatomi Casino is for you: you can try your luck and blow off some heat from those long tireless workdays.
Escape the Room Milwaukee offers quality, fun and exciting time with your friends while Splash Studio is a place to let your inner artist free! You can also visit CSz Milwaukee, an improv comedy show, and Koz's Mini Bowling for an enjoyable time.
Things to be Cautious of in Milwaukee
The Brew City offers glamour, fun and entertainment and was ranked as one of the best cities to live in in 2019. Like all metropolitan cities, Milwaukee is also prone to a high crime rate. In addition, the city is known for black-white segregation especially in northside and southside neighborhoods.
For Blacks, the safest neighborhoods are Brown Deer and upper North side. If you are White, you might want to stay in White Fish bay, Downtown and East side. If you are an Arab or a Hispanic, the safest areas for you are in the South. It is better to stay with your communities so you can enjoy your vacation perfectly and without any hustle.
Like people, cities have their good and bad sides and like all cities, Milwaukee does too. Notwithstanding, the city is rich in adventure, history, culture, art and food and promises you a vacation of a lifetime.
See Also
5 Interesting things to know about Milwaukee Wisconsin
What is Milwaukee Wisconsin known for?