Louisiana sits within the USA's Deep South region, neighboring Texas, Arkansas and Mississippi, with a southern coastal border along the Gulf of Mexico. Known both as the Bayou State and the Pelican State, Louisiana is a fascinating place with a rich culture and history which draws the interest of tourists, artists and musicians from all over the world.
If you want to know about Louisiana's culture, geography and other fun facts, then this is the article for you. Carry on reading to find out more about all the most important Louisiana landmarks, features and events.
Where is Louisiana?
Louisiana is one of the southern states of the USA, located in the West South Central region, between Texas, Arkansas and Mississippi. It lies at a latitude of 30.391830, and longitude of -92.329102.
How big is Louisiana?
Louisiana has a population of around 4.7 million people spread over an area of around 43,566 square miles of land with approximately 5,186.92 square miles of inland waters.
The perimeter or boundary length of Louisiana is roughly 1,486 miles with a 7,721 mile long tidal shoreline.
What is the geography and ecology of Louisiana?
Louisiana's landscape and environment are characterized by large areas of coastal marsh and swamp.
Much of the state's land has been formed from sediment carried by the Mississippi river, creating deltas and marshy areas which are home to a high level of biodiversity including ibises, egrets and other birds, a range of tree frogs, and a variety of fish.
In higher areas of the state, wet savanna areas and longleaf pine forests host a huge number of plant species including carnivorous plants and orchids.
What is the weather like in Louisiana?
Louisiana's climate is subtropical. Long, hot, sultry summers see temperatures of around 70-90°F (21 – 32°C) with high humidity levels that can lead to very high real-feel temperatures of over 120°F (49°C).
Louisiana experiences over 60 days of thunderstorms each year, more than any state except Florida.
Winters are shorter and milder, particularly in the southern part of the state. Rain is frequent all year round, with April – September being the wettest season.
Louisiana is vulnerable to tropical cyclones and hurricanes, and the lowlands around New Orleans lie in particular danger because of their position below sea-level. Tornados are also common across the state.
What are the most popular sports in Louisiana?
American football is the most popular sport in Louisiana. Alongside the well-known 'New Orleans Saints' professional team who play in the NFL (National Football League), there are a number of college teams across the state.
Basketball is also a major sport in Louisiana with the New Orleans Pelicans team competing in the National Basketball Association (NBA). Other notable Louisiana sports include baseball, rugby and athletics.
What are Louisiana's main cities and landmarks?
Main cities
The three largest cities in Louisiana are New Orleans (pop. 391,500), Baton Rouge (the State Capital, pop. 227,500), and Shreveport (pop. 195,000).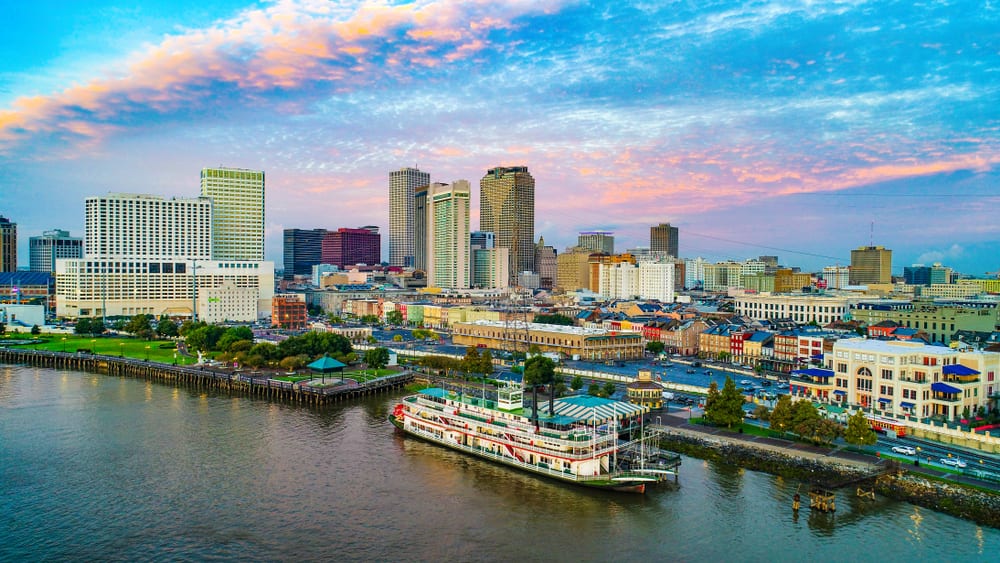 Landscape
Driskill Mountain in northern Louisiana is the state's highest point, with an elevation of 535 feet above sea level. Louisiana's lowest point is in New Orleans, lying six feet below sea level, defended from flooding by artificial levees.
Rivers
Louisiana has around 53,622 miles of river including the Mississippi which flows through the state before emptying into the Gulf of Mexico around 100 miles downstream of New Orleans. Other large rivers in Louisiana include the Red River and Ouachita River.
Architecture
From the Old State Capitol in Baton Rouge to the modern Louisiana Sports Hall of Fame in Natchitoches, Louisiana has many striking architectural structures including a high number of buildings on the National Register of Historic Places.
The state is home to the majority of surviving examples of French Creole architecture, one of the USA's major traditions of colonial architecture.
What are Louisiana's main cultural events?
Louisiana culture is rich, involving elements including music, food, language and religion, many of which come together in the state's various festivals.
Cajun culture, which evolved with waves of French-speaking immigration to the state, is a distinctive feature not found in neighboring states. Cajun cuisine is extremely popular throughout the USA, characterized by spicy and fried foods.
Local African-American culture has always been strong in Louisiana, especially around music. New Orleans is the birthplace of jazz, and rhythm and blues music also has strong roots in the state.
Mardi Gras is the most famous of Louisiana's festivals, drawing visitors from around the world every year and featuring in numerous books, TV and movies. Other regular festivals include the New Orleans Jazz and Heritage Festival and the Voodoo Experience.
Mardi Gras
Mardi Gras is French for "Fat Tuesday", an occasion which falls on the Tuesday before Ash Wednesday, and is celebrated in many different ways around the world. The Mardi Gras festival in New Orleans was first held on Feb. 24, 1857.
It is now world famous and reportedly generates more than $1 billion spending annually for the New Orleans economy.
In New Orleans the actual day of Mardi Gras is preceded by the whole Carnival season which begins on January 6, the official last day of Christmas.
During the Carnival period people eat, drink and party with a series of parades, balls and celebrations before Lent arrives with its contrasting traditions of fasting and sacrifice. Carnival ends and Lent begins at midnight on "Fat Tuesday".
The Mardi Gras parade is organized by "krewes", private, non-profit organizations which are individually funded and coordinated by their members, sometimes with corporate sponsorship.
Sometimes called "The Greatest Free Show on Earth", no tickets are required to watch any Carnival or Mardi Gras parade from public streets.
The next New Orleans Mardi Gras will be held on Tuesday, March 1, 2022
New Orleans Jazz and Heritage Festival
The New Orleans Jazz and Heritage Festival was first held in 1970, organized and run by the New Orleans Jazz and Heritage Foundation. The festival and foundation exist to promote and encourage the music, culture and heritage of Louisiana communities.
The New Orleans Jazz and Heritage Festival has grown from small beginnings into an event that now attracts hundreds of thousands of visitors to the city, contributing around $350 million a year to the local economy. The festival will next take place April 29 – May 8, 2022.
The Voodoo Experience
Held in New Orleans' over the Halloween weekend, the Voodoo Experience is a music and arts festival which was first held in 1999. The line-up of bands for 2022 has not yet been confirmed.
See Also